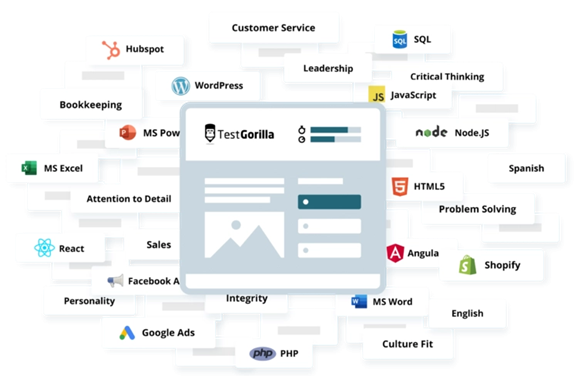 Hiring the wrong person is costly. Both in money and in time. That's why everything we do is to support you in hiring the right person.
With this in mind, we've added one more stage to our (already outstanding, by the way!) candidate screening process. Introducing… TestGorilla!
TestGorilla is an assessment tool that helps to identify the best candidates and make your hiring decisions faster, easier, and bias-free.
With a library of 213 scientifically validated tests, we can enable you to predict real-world job performance.
You can test candidates for job-specific skills like coding or digital marketing, as well as more general skills like critical thinking.
Testing for skills is a provable and measurable method for success. Take problem-solving, for example. We see this in almost every job spec. A candidate can tell you they're a great problem-solver, but where is the real-world data to prove that? Right here, that's where!
So how does it work?
We set up a bespoke assessment for your vacancy
We load that assessment with up to five tests that are important to your vacancy
We set the parameters, including the time allowed per test, and anti-cheating monitors
We send the assessment to candidates to complete
We share their results with you for review
How much does it cost?
This is an optional add-on to our service, billed at £175 per vacancy.
Let's talk
Want to learn more about how our skills assessment service can support your recruitment? Click below to get in touch.