Video interviewing has become a standard part of the hiring process for businesses across the UK. And with hiring managers discovering the benefits of virtual hiring, it looks as though this trend is a permanent fixture!
What does that mean for you as a hiring manager? It means you need to take your virtual interviewing process seriously. You might have gotten away with winging it in the early days of lockdown. But now the bar is higher and you need to treat the process as though it's here to stay.
How to conduct a great virtual interview
1.   Figure out your tech in advance
Don't leave your tech to the last minute...especially if you're a technophobe. Make sure you carry out a test run to check your mic and camera and familiarise yourself with all the buttons!
2.   Send an interview brief to candidates
For many candidates, virtual interviewing is a new and strange experience. Normal interviews are daunting enough as it is, but going virtual can add extra nerves. So to put your candidates at ease, be sure to send an email outlining the interview process and what they can expect.
What to include in a virtual interview brief:
Interview duration

Tips for their lighting and background

Dresscode

Interviewer names and job titles

An outline of the entire interview process
3.   Set the scene
You might be carrying out the interview from home, but that's no excuse for having a pile of laundry sitting in the background. You're still representing your company so make sure your home setup is tidy, well-lit, and has a neutral backdrop.
4.   Record the call
It goes without saying that there's a loss in communication when video interviewing. To make sure you stay as engaged and engaging as possible throughout, record the interview so you're less reliant on note-taking.
5.   Break the ice
Remember, the candidate's still going to be just as nervous as a face-to-face interview… if not more! Using a bit of small talk and light-hearted humour at the start of the call is a great way to break down barriers and bring the best out of your interviewee.
6.   Prepare for the worst
Have you thought about what you'll do if the WiFi drops? This could happen so you need to have a backup plan. Make sure you've got the candidate's mobile number to continue the interview over the phone if necessary.
7.   Mute any distractions
In an in-person interview, you wouldn't allow just anyone to walk into the interview room, would you? No. So make sure you minimise any distractions and make yourself unavailable to your colleagues. That means muting email or chat notifications, and booking out the interview slot in your diary so your team knows you're unavailable.
Oh, and don't forget to tell your family not to disturb you either. You don't want your kids bursting through the door with a dramatic entrance halfway through the interview. We've all seen that BBC interview…
8.   Play a company introduction video
The interview process is as much about the candidate deciding if you're right for them, as you deciding if they're right for you. The downside to virtual interviews is that candidates don't get a chance to look around the office or meet the team. To help showcase your company culture, consider investing in an introduction video for your branch to help bring your team to life.
9.   Be clear on the next steps
Whether you liked the candidate or not, never leave them hanging. Always let them know when they'll hear back from you, and what the next steps will be if they're successful.
Get in touch!
Need help hiring great talent? Contact us today to get the ball rolling!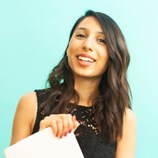 Vanessa Ramkissoon | Recruitment Content Expert