Applying for a role in sales isn't easy - especially in today's competitive market. Hiring Managers only spend an average of 7 seconds looking at your CV before deciding whether to move onto the next hopeful.
So what does that mean for you?
It means that before you click 'send' on your application, you need your CV to scream 'sales animal'. How do you do that? By including the hottest sales skills in your CV.
You want the Hiring Manager to glance at your CV and think, 'Wow, I need to call this person NOW.'
3 skills NOT to highlight in your sales CV
Before we dive into the hottest sales skills, we thought we'd mention the skills that aren't as important. That's not to say that you won't use these skills in the job. But these are skills that don't scream 'sales'.
1.  
Admin
Although you might have some admin work to do in your role, this isn't a huge selling point. Generally speaking, people who love Admin aren't suited to sales. So don't give this your focus.
2.  
Computer skills
Again, you'll need to be computer literate but you don't necessarily need to be a computer whizz to succeed in sales. It's fine to mention this skill in a minor place in your CV, but there's no need to shout about it (unless you're applying for a sales position in computing!).
3.  
Teamwork
What?! Don't highlight teamwork?! Yes, exactly that. Success in sales comes down to you as an individual. Only YOU will be responsible for the results YOU produce... nobody else. If an employer thinks you'll be too dependent on teamwork, they might decide you're not suited to a sales environment.
The best sales skills for your CV
1.  
Competitiveness
Is being competitive really a skill? Eh, maybe not. But it's one of the most sought-after qualities employers look for in a salesperson. That's because the very nature of the work is… yep, you guessed it: competitive. To succeed in sales, you need to get a kick out of winning, otherwise you WILL flop. In your hobbies section, include any competitive sports you play.
2.  
Target-driven
Sales jobs are heavy on the targets. But not everyone's suited to this style of management. So you need to show you've successfully worked to targets in the past. Don't be vague about your targets - include specific figures of the targets you achieved.
Examples of KPIs / targets:
3.  
Resilience
Sales is NOT easy. In all honesty, you're going to get knocked down and hear the word 'no' more times than you can count. Hiring Managers need to know you can persevere through the pain. They want proof that you're not going to drop off at the first sign of turbulence.
It's definitely worth pointing out this quality in your personal statement!
4.  
Communication
If you're in the sales business, you're in the people business. And that means being able to consult with and influence customers. Hiring Managers LOVE sociable and persuasive people. If you can sell meat to a vegetarian, you're definitely the type of person they'll want on-side.
5.  
Organisation
To truly succeed in sales, you need to be organised in your daily tasks. You can't forget to call clients back or miss important deadlines. Sales is about results. And to yield the best results, you need to run like a well-oiled machine!
6.  
Self-starter
The best salespeople are the go-getters, the ones who are quick off the mark. You can't have someone holding your hand every step of the way. Shout about being a self-motivated person with bags of initiative. That's what employers want to see!
7.  
Listening
Last but certainly not least is your ability to listen to customers. For customers, there's no bigger turn-off than a salesperson that chews their ear off and won't let them get a word in.
Yes, you do need the ability to talk persuasively, but being a great salesperson starts with listening to your customers' needs.
Get in touch!
If you're looking for your next sales position, we'd love to hear from you! Click below to send us your CV and we'll be in touch with any suitable vacancies.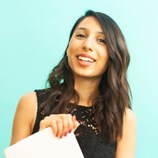 Vanessa Ramkissoon | Recruitment Content Expert