There's no other way to put this, Coronavirus is here, and the sad reality is it's going to be here for a while. This means months of isolation and social distancing.
While we're in this tough period, we face risks of becoming a bit lonely, a bit depressed, (very) unhealthy, and a bit couch potato-ish. I think I speak for everyone when saying we don't want any of this.
To help us all maintain our wellbeing (maybe even improve – I don't know about you guys, but I've never exercised so much!), I've compiled a list of things I think are essential to staying healthy, both mentally and physically. I've provided links for each point to experts offering free advice.
Let's get stuck in…

1. Be in the know
It's important to properly understand what's going on, how you'll be affected, and the options you have.
Firstly, stop paying attention to unreliable news sources. These sources do not have a duty of care to inform the general public. They are solely designed to generate money by selling stories. Best way to do this? Extremely exaggerate and sometimes make up stories to gain peoples interest. Sorry, Daily Mail!
To get fully informed, turn to sources like BBC News or The Guardian. To get up to date, here's an archive of all the important stories. Also, tune into BBC One every day at 15.45 for the Coronavirus Daily Update.
Next is to understand how it's going to affect you. If you're an employer or employee, you should look into the Coronavirus Job Retention Scheme. This is where employees can remain on the payroll, even if the business cannot operate or there is no work for employees to do. This is known as being 'on furlough'.
The scheme enables employees to earn 80% of their salary, which the government will then pay back to the employer. Everyone's a winner.
If you're self-employed, you should look into the Coronavirus Self-Employment Income Support Scheme. This enables those who are self-employed to claim a grant worth 80% of your trading profits up to a maximum of £2,500 per month.
For more information on grants and financial support, visit https://www.gov.uk/coronavirus.
2. Stay physically fit
Ok, the boring and gloomy bit is over, now let's get shredded!
It goes without saying that physical fitness is important. Aside from all the obvious benefits, daily exercise will generally make you feel better – with more energy, a better mood, feel more relaxed and sleep better.
With gyms being closed, staying fit was proving to be difficult, but not anymore! Introducing Bradley Simmonds…
Bradley is a professional footballer turned personal trainer, with an impressive clientele including John Terry and Maya Jama. Bradley is big on Instagram and has cleverly put together a team of fitness pros and sports stars (including himself) who'll be delivering live training sessions every day throughout the isolation period.
No equipment needed; sessions include:
HIIT with Bradley Simmonds, Adrienne Herbert and Men's & Women's Health UK
Pilates with Hannah Adam
Yoga with Laura-Kate Brown and Jessica Olie
Strength with Bradley Simmonds, Jermaine Jenas, Adam Gemili and Laura Hoggins
Mobility with Tom Bliss
Each session lasts roughly 30-minutes, and they're great! All you need to do is tune into the trainer's live Instagram videos at the above stated times. Here's the link to Bradley Simmonds' post with more info and links to each of the trainer's pages.
3. Stay mentally fit
Taking care of your mind while staying at home is equally as important as staying physically fit. Social distancing is probably diminishing your social life, which can make us feel bored, frustrated and lonely.
It's important to remember it's ok to feel this way, and that this is only temporary. A good way to look at this is by staying home, you are helping to protect yourself and others which is speeding up the defeat of the virus.
Keeping fit will help your mental state, and so will pretty much everything else I'll cover in this blog, but something clinically proven to help reduce stress, anxiety and depression is My Possible Self. An app that was commissioned by the NHS to combat poor mental health.  
In the app, you can track your mood every day and then highlight activities, places and people that influence your mood, so you can focus on the things that make you feel great and do less of the things that don't. You'll also have access to ten modules that will help you develop new ways to deal with thoughts, feelings and behaviours, all designed to improve happiness and wellbeing.
What's best? The amazing team is offering the app entirely free to everyone for the COVID-19 pandemic.
4. Eat well
I'm starting to feel like a fitness coach here…
Being at home so often, it's super easy to spend the day snacking and binge eating tubs of ice cream while watching Netflix. As tempting as this is, just don't! He says while opening the fridge for the eleventh time in the last hour…
Joking aside, eating well not only makes you feel better, but it's also proven to improve your immune system – perfect for a time like this.
Properly designed nutrition plans are expensive, and following food experts' recipes can be long-winded. So, for simplicity and efficiency HelloFresh is great. They deliver just the right amount of fresh ingredients and easy-to-follow recipe cards each week so you can whip up delicious and healthy meals in under 20-minutes.
As well as being tasty and convenient, using HelloFresh means no waste, so it's better for the planet. And, it's delivered to your doorstep, so there's no need to leave the safety of your isolation station!  
For comfort food and weekend treats, check out my two new favourite people; Isaac Carew and Gizzi Erskine. Isaac is an awesome chef and posts lots of recipes on his Instagram, as does Gizzi. However, Gizzi has just started a new Instagram page with Rapper Professor Green where they host a Monday Night Fakeaway, recreating classic takeaways every Monday. They kicked with a Big Mac. It was uncanny. Check it out here.
5. Get dressed
To get dressed up, or to stay in pyjamas? That is the question we're asking ourselves every day. I vote the former.
The days and mindsets can quickly become a blur when there is no real distinction between Monday and Saturday, or work and relaxing, without changing up our clothing. I'm not suggesting you suit up to sit in your kitchen, but if you don't look ready to face the world, it can affect your productivity and energy.
Getting dressed every day changes your mindset. There's something about changing from your PJ's that turns your mind on. You're suddenly ready for whatever the day throws at you.
This article is a little long-winded (sorry), but explains the scientific study of Enclothed Cognition, basically meaning the influence that clothes have on our psychological processes.
This one is much more engaging.
And this one is just for LOLs.
6. Keep in touch with friends and family
Your typical dinner out, games night or drinks with friends may be called off, but connecting with other people is a really important way of maintaining your wellbeing during isolation.
Thanks to technology and quick innovation from our favourite entertainment providers, this is easier than ever!
Fancy a movie night? Google Chrome has built an extension called Netflix Party, which enables users to watch their favourite shows with others remotely.
Fancy a simple catch up? FaceTime is the obvious go-to for Apple users, but for those who aren't, download Zoom, Houseparty or Skype.
Keep an eye on your local pubs hosting virtual pub quizzes. Dodo Pubs (An Oxfordshire pub chain) has been hosting some cool events on Facebook Live.
For those looking for some more sophisticated entertainment, Elliot Awin is hosting weekly wine tasting sessions on his Instagram. As well as getting to taste some delicious wines, you get to polish off the three bottles afterwards!
7. Learn something that will benefit your work
Now couldn't be a better time to up your professional game. Been thinking about learning to code to help you land that promotion at work? Now's the time to do it! Thinking about transitioning into marketing? Now you have the time to learn about it!
Not only will learning new things benefit your career when everything returns to normal, but it's also actually a core need for psychological wellbeing. Vanessa King, positive psychology expert at Action for Happiness, says 'Learning can help us build confidence and a sense of self-efficacy. It can also be a way of connecting with others too. As human beings, we have a natural desire to learn and progress. Psychologists call it Mastery'.
I've spoken about Udemy in previous blogs, but it's such an excellent site for quick and effective online courses. And they almost always have an offer on where you can grab a course for approx. £12!
For a bunch of free courses, check out this article by Highsnobiety.
8. Explore new hobbies
Ok, learning is great, but surely, it's not all about work?!
Aside from bolstering your professional skills, take some time (you've got plenty of it!) to take up some new hobbies!
Personally, I've been cooking some awesome stuff in the kitchen – my triple cooked chips are the best you'll ever taste if I do say so myself.
From painting to learning a language, this article in the Evening Express gives 10 hobbies to keep you busy.
9. Get outdoors
I know there are limitations here but getting outdoors is key to staying sane. Psychologists and health researchers are finding more and more science-backed reasons we should go outside and enjoy the natural world.
Getting outdoors has been proven to:
Boost your energy
Good for vision – less likely to develop near-sightedness
Mitigate pain
Boost your immune system
Enhances creativity
Give your daily dose of vitamin D
Restore focus
And more!
However, given the situation, it's crucial to abide by the rules enforced by the government on going outdoors. Get up to date with them here.
10. In in is the new out out
Remember a time when we'd have something to look forward to at the weekend? Being able to get dressed up in our glad rags and go 'out out'? Well... in in is the new out out!
Schedule some dates with your friends and family to stay in in together. Set Friday nights for you and your friends and family to all cook a fancy dinner, buy a nice bottle of wine or make some homemade cocktails, get dressed up and make the most of it! Do this with those you're isolating with, or if you're isolating alone, get some people on a video call.  
Just because we're all (physically) isolating, that doesn't mean the party's over. Some people are saying they've never been so sociable! It's because everyone is free all the time, and available at the click of a button. Check out this article from GO London for some staying in inspo.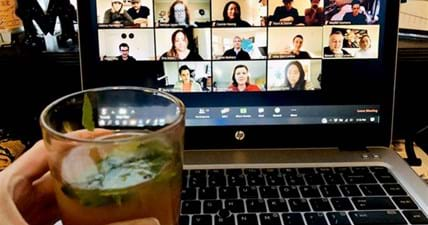 Well, I hope this is useful for those of you who are suffering from boredom at home, and I hope it's inspired some health and hobbies!
Keep well, and stay indoors! (apart from when using up your daily outdoor exercise credit 😆.)
As always, if there's anything I can help with, be it a CV review or some tips on hiring when things return to normal, please get in touch. 

 Jae Jackson-Loveridge | Director