Job searching isn't just about writing the perfect application. It's about standing out as a person and doing things differently from all the other applicants. And there's a whole list of ways you can stand out in the job search process.
You want the hiring manager to remember your name for all the right reasons. It's not about being the most skilled or most qualified candidate - there's so much more you can offer!
Tips for the job-hunting process
How to stand out during the job application phase
1.   Submit a flawless application
The application is one part of the job hunt process you must nail if you stand any chance of landing your dream role. Take the time to write a CV/application that echoes what the job description is looking for. Use tangible examples to prove your worth, and always get an extra set of eyes to check your application for errors.
2.   Hand deliver your CV where possible
There's no better way to stand out than by delivering your CV the good old fashioned way. It might not be possible to do this for every application, but if a business is local to you, simply showing your face and making a brief introduction can be a sure way to fast-track you to the interview stage. But don't forget to also send your CV by email just in case the hard copy gets misplaced!
3.   Follow up on your application
If you haven't heard back from the hiring manager within 7 days, put in a call to check on the progress of your application. This shows you're keen and puts you at the forefront of the hiring manager's mind.
4.   Be prepared to interview at short notice
Start putting in your interview prep before you're invited to an interview. If the hiring manager wants to see you at short notice, you don't want to have to turn the opportunity down due to a lack of preparation.
How to stand out during the interview phase
1.   Where a pop of colour
Now, wearing a splash of colour in an interview isn't going to bag you the job, but it will help the interviewer to remember you. If they have a whole string of candidates to interview in a week, it's not long before the candidates start to blur. But wearing a noticeable brooch or colourful tie can help keep you clearly in the hiring manager's mind.
2.   Don't go in empty-handed
In addition to taking your CV into the interview, why not go one step further and take in a little surprise? This could be anything that supports your character and application, such as a portfolio piece or a personal development book - just something that showcases your work ethic or passion for their industry. You can bring this up at the start of the interview after you deliver your elevator pitch.
3.   Show genuine passion
It's not always the most skilled applicant who gets the job, but often the more passionate applicant. You can't control if there are more experienced candidates than you, but you can control how passionately you come across in the interview. Make sure you show the interviewer you want to work for their specific company and explain why you love the sound of the role.
4.   Ask the interviewer about themselves
Candidates often shy away from asking the interviewer too many questions or tend to only stick to the generic ones. But asking the interviewer about themselves and their experience is a great way to build rapport. Plus, the interviewer will probably really enjoy telling their own story! (Check out our list of questions to ask at the end of an interview!)
5.   Reiterate your interest
At the end of the interview, make sure you reiterate your interest in the role before you leave the room. It's the last thing the interviewer will remember and will leave no doubts in the hiring manager's mind as to how much you really want the role.
Let the job hunt begin!
If you're looking to launch a new career, let us help. We're constantly on the lookout for talented candidates across a variety of industries. To get started, click below to get in touch.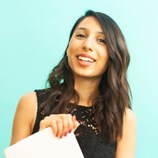 Vanessa Ramkissoon | Recruitment Content Expert