A common objection I hear when introducing FFP to prospective clients is "we do all our recruitment in-house". Is that so? Well how's that working out for you Mr it takes me 6-months to hire and when I do, I can only attract a notorious job-jumper and they always leave within their first year? Not very well? I thought not!
Managing your recruitment internally makes sense. It saves money. It costs time, but it does save money. However, it only makes sense if done correctly. If you fail to advertise well, you'll end up wasting far more money than what you've saved by having to replace a bad hire.
Here's everything you need to build and advertise properly…  

1. Stop advertising in the wrong places
Your website is not a good place to advertise jobs, especially when ads are posted on your blog page. Realistically, who is going to see this? What are the odds on a random jobseeker casually browsing your website, popping onto your blog page and noticing you're hiring for exactly what he or she does? Pretty low, I'd say!
Your blog is to attract people interested in using or buying your product or service, not to attract candidates. Why on earth would a jobseeker be on that webpage?!
Also, stop advertising jobs on Indeed for people who aren't going to be on Indeed. If you're looking for a hard-working, successful and ambitious IT Salesperson, they aren't going to be scrolling through Indeed. They're going to be working hard and succeeding already – exactly what you want them to do at your company! These people need to be headhunted; they won't just stick in an application.
The next two steps will help you identify the right places to advertise…
2. Build a persona
You need to figure out who will be a good fit for your role. Write down everything they'll be doing, followed by the skills they need to be able to do those things. Finally, write the things that would make a person a good fit (characteristics, traits and qualities).
Once you have those, you'll have a clear picture of the person who'll be great for the job.
Next, you need to figure out why someone would want the job. What is it about this role that would cause someone to want to leave their current employment to begin this one? Will you fund and support a qualification? Will this be a promotion from their current role? Will this be an immediate pay rise for your target candidate?  
Try to summarise in two sentences, who would want this job and why.
3. Use the persona to identify the best advertising channels
Ok, you know who would want this job and why. Now think about where that person is likely to be. If you're targeting a young person at the beginning of their career and some ideal traits are sociable and outgoing, they're probably going to be on Facebook. This is your channel.
If you're targeting an experienced professional with a record of proven success, they're probably going to be on LinkedIn. This is your channel.
Targeting a graduate? They'll be monitoring their University's job portal. This is your channel.
Targeting a web developer? They'll be on development forums like GitHub and Stack Overflow. This is your channel.
See how these are all bespoke to the type of person you're targeting? As aforementioned; a generic ad on your website and Indeed is not the best strategy to find talent.
4. Give your ad a stand-out and descriptive title
You want to attract great candidates, start with a great title! It doesn't have to be the job title that appears on your organisation chart or in the job description; the job title is the equivalent of the subject line in a marketing email. It needs to grab your target audience's attention, and it needs to describe the role accurately.
I advise a simple yet descriptive job title followed by a snippet of your 'why would someone want this job' statement. For example…
Marketing Software Sales Executive – Entrepreneurial Environment and Progression after 6-Months.  
This features the role (sales), the product they'll sell (marketing software), and the things that would excite ideal candidates (entrepreneurial environment and fast progression).
5. Get people excited about the company
At this stage, you're selling to the candidate. You've hooked their attention; now you need to keep them engaged. Explain all the awesome things about your company. What's your environment like? Is your team supportive? Creative? Do you work with any big, well-known brands? What are the company goals?
Try to keep this aligned with 'why someone would want this job'. Why would your ideal candidate enjoy working at your company?
6. Build excitement about the role
Here's the juicy part. Here's where you convince someone that they should be in this job and not their current one.
Explain what they will be responsible for, and what exciting projects will they be involved in.
Good candidates will see these things as an exciting challenge, and bad candidates will see it as hard work which they don't want to do and put them off applying (nice!).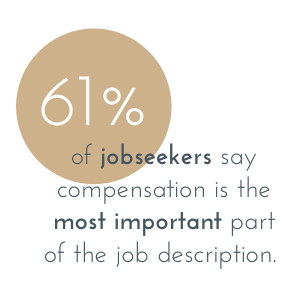 7. List the benefits of working for the company (not the obvious ones)
Offering a pension is not a benefit; it's a legal requirement. And since when has a pension been exciting?
Remember the purpose of this ad is to excite candidates to the point of application. Tell them about all the cool stuff you do at your company. Think; monetary bonuses, learning, qualification and up-skilling opportunities, working with impressive brands, trips to the pub on Fridays, quarterly activities?
Here are some examples from our clients…
Penny & Sinclair: Fund and support employees to undertake industry qualifications to help benefit their career.
OX365: Go bowling on Fridays, followed by a trip to the local pub.
Zest Digital: Quarterly away days for achieving targets including; Cheltenham races, tobogganing at Milton Keynes SnowZone, etc.
8. Set your criteria and be bold!
Describing what you're looking for goes without saying but something which is often overlooked (and super important) is describing what you're not looking for. Here is your first opportunity to scare off the bad candidates We love the 'you will', 'you won't' technique.
You will...
...be responsible for managing multiple projects
...be on the phone for 50% of your day
...deliver outstanding customer service
...work the occasional late night
...attend off-site client meetings
...use your initiative and make decisions
...be rewarded for hard work
You won't...
...hide behind email
...be patted on the back every 5-minutes
...be micro-managed
...be spoon-fed opportunities
...be bored
...be someone who turns on their out of office for a two-hour meeting
Candidates will read through the list and think, "this is me" or "this sounds awful". You don't mind which, you're winning as you've attracted the good candidates and repelled the bad!
Many managers are scared of offending people here. Don't be. You know what your criteria is, so make it clear in the ad. If you require specific qualifications, clearly state what they are. If you require experience in a particular piece of software state precisely what they will need to demonstrate IN THE INTERVIEW.
9. Ask for an application
It seems obvious, but most people don't do it…
If you don't ask, you don't get. Say something like "If this sounds like you and you're looking for a challenging yet rewarding opportunity, apply now!"

So, there is everything you need to build a job ad that stands out among thousands of others. However, building a great ad is difficult. If you'd like our help, get in touch…

 Jae Jackson-Loveridge | Director