Every year, hundreds of thousands of university students graduate in the UK but research has shown that only half of graduates actually go on to land a job in their chosen field. The graduate job market is a competitive world. So what happens after you've dedicated 3 years of your life to tireless study only to realise at the end of it that you're lacking actual work experience?
Sound familiar?
The good news is that you don't need to have actual paid work experience to jazz up your CV and land that dream role. If living the broke university life taught you anything, it's to make use of what you have!
7 ways to jazz up your graduate CV (even with no experience)
1.   Include any part-time work
How is mentioning your Saturday job at the local cafe going to help land your dream job, I hear you ask? Well, even if your part-time university job doesn't seem relevant to landing your dream job, employers like to see that you've been integrated into a professional environment and have the ability to hold down a job, turn up on time, and have a sense of responsibility.
Sounds basic, but in the eyes of an employer, any type of work experience counts for a lot.
2.  
Subscribe to relevant journals/newsletters
Start taking an active interest in your chosen field. Find out who produces the leading journals/newsletters and be sure to subscribe. Not only will these journals and newsletters expand your knowledge, but they're something to mention in your CV to show you take an active interest, and any names of reputable organisations will jump out of your CV and catch the hiring manager's eye.
3.  
Attend online webinars/networking events
Start getting involved in the community by attending webinars and networking events. This will help to sharpen up your knowledge and learn new skills, but most importantly, this will be a great talking point in your CV and show you have a real commitment to the industry.
4.  
Volunteer
Volunteering is a great way to gain some hands-on experience. Start looking for organisations that will allow you to gain experience with the required skill set. Even if you just volunteer every Saturday for 1 month, this is going to give you PLENTY to talk about in your CV. Again, hiring managers will gain confidence in you as they notice your commitment to the industry!
5.  
Highlight relevant project work
Your university project work isn't something to glide over - it's something to shout about! Pick the project that relates most closely to your chosen field and demonstrates good knowledge or the right sort of skills e.g. analytical skills, IT, marketing etc.
It's down to you to bring this project to life in your CV. Don't simply name the project - provide a bit of detail around the challenges and key objectives.
6.  
Create a portfolio
Depending on the line of work you're looking to go into, creating a portfolio can be more straightforward for some job roles. For example, if you want a graduate marketing role, creating a couple of sample marketing campaigns is the best way to showcase what you can already do. But if you're looking to move into Finance, you might have to think a little more creatively about how you could build a portfolio.
Either way, think about the skills you'd be using on a daily basis, and create a portfolio piece that showcases those skills.
7.  
Update your LinkedIn profile
Last but not least, employers often look you up on LinkedIn before hiring you. So make sure your LinkedIn profile is updated and that it marries up to what you're writing in your CV.
If you need help updating your LinkedIn profile, you can check out our guide which tells you exactly how to leverage the power of your LinkedIn profile!
Let's talk!
Looking for a graduate role? Hit the button below to tell us about yourself and we'll be in touch with some exciting opportunities!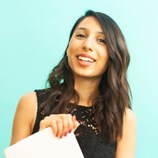 Vanessa Ramkissoon | Recruitment Content Expert